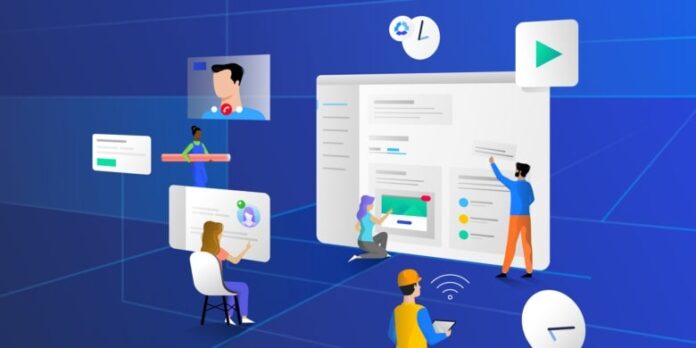 Even after the removal of social distancing, there is still some confusion regarding the work culture's sudden shifts. During COVID-19, employees were forced to work from home. It was new and many people were uncomfortable getting disconnected suddenly from their collaborative work culture in the office. 
Organizations were unable to adapt to this new unexpected shift. There is a vast difference between working in the office and working from remote areas. Remote working does not give the necessary transparency about the skill level of employees, which can cloud the manager's judgment. Even the employees need to trust the manager, so they feel comfy and perform better.
As employees connect from different geographical locations, their Wi-Fi speeds will differ. There can be connectivity issues, which can cause a delay and affect the team members' meeting. Similarly, there are myriads of issues like remote work training, business processes, software, infrastructure, team collaboration, communication, workflows, etc. Kosy Office is a great platform that offers businesses the to create an effective virtual team room. 
The face-to-face work culture cannot be replicated but a virtual team room enhances real-time communication, feel connected, as well boost their morale. Remote work offers the employee the flexibility to balance their life-work ratio resulting in more productivity. Customize the space like add rooms, logo, and furniture. Multiple members can share the screen simultaneously, just like being together in a single conference room. 
How to build a successful remote team?
Working with a team in a remote environment needs a dedicated workforce, where there is accountability to get a task done irrespective of challenges. 

Social barriers make people uncomfortable, so to overcome them you can arrange social events or get-togethers in person. It gives them the much necessary interaction with colleagues and they become stress-free.

In remote setups, communication is insufficient. There is no physical or emotional attachment with the team. This can cause delays in response, which can cause a lack of trust. To overcome this set communication protocols for texting on chat apps. Conduct regular meetings via video calls, so they stay connected emotionally and understand the team better.
Tips for successful remote team management
Set expectations & boundaries
As employees work remotely there may be time zone limitations. Therefore set expectations associated with working hours, meeting hours, communication channels, employee objectives, and project approach right from the start. 
Sometimes, business owners get carried away taking the time of their employees for granted. As the employees are working in a remote environment, it doesn't mean that their daily routine life can be disrupted by untimely messages, emails, or phone calls. Discuss work schedules to ensure no team member is disturbed in their unofficial hours and they enjoy a positive work-life balance.
Schedule daily check-ins
To ensure that all the team members are present, managers need to launch daily check-ins. The calls scheduled at the same time help you get an update as well as know project needs from the employees. 
Form a practice to make AM check-ins to discuss what needs to complete and what the obstacles are. In the PM check-out calls talk about their accomplishment and if left undone how to overcome the interference. 
Kosy Office is active on LinkedIn, where managers will get an insight into how to manage remote work collaboration using the platform.